The Management & Leadership SuMMit – The Pinnacle of Management Month
Friday 2nd March 2018. SuMMit details to be released in due course.
Save The Date
Event Details
Friday 2nd March 2018
8.15am – 1.30pm
Includes Light Breakfast & Lunch
Titanic Belfast
Booking
Book a subsidised seat at £85+vat (RRP £245+vat)
Book a table of 8 for £595+vat (one place free)
Book an exhibition table at £595+vat (limited availability and requests subject to approval)
Rene Carayol MBE to Host  SuMMit  2018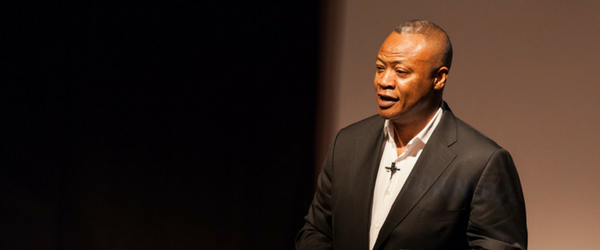 Rene Carayol MBE is one of the world's leading executive and leadership coaches. He has worked closely with history-defining leaders such as Mikael Gorbachev, Nelson Mandela, Sir Richard Branson, Bill Clinton and Kofi Annan. He is also a best-selling business author and in his latest book, SPIKE, he asserts that none of these world-renowned leaders are flawless or 'all-rounders'. However, they all tend to know their 2-3 Spikes, and have taken the time and focus to fine tune them to near Olympic standard. This concept is at the heart of the 'Strengths-based Revolution' which Rene is pioneering.
Rene has also worked with some of the Fortune 500's top CEO's and their executive teams, but crucially, he himself has actually been Chairman, CEO and MD of blue chip businesses. He has served on the boards of some of the biggest international organisations; including Marks and Spencer, IPC Media & Pepsi and he therefore speaks with the authority and confidence of the expert practitioner who has seen and experienced it all before.
René s messages take the form of practical, real life experiences delivered with electrifying effect. He both shakes up and inspires his audiences by showing them not only what lies within their grasp, but how true collaboration makes everyone stronger.
MLN is honoured that Rene will host the 2018 SuMMit and in doing so deliver a keynote address and interview the other world-class performers on the speaking line-up.
The Management & Leadership SuMMit – Feedback from  2017
This was an excellent beneficial way to spend a morning. These sessions get better every year and inspire you to improve.

Barry Mulhern

CMASS Ltd
Excellent event as always. Great range of speakers and fantastic lessons to take forward and apply.

Caroline Greenlee

Michelin Tyre PLC
In business we need to step back from activity and think, this event facilitates that

Maurice Warburton

Jenkins Shipping Co Ltd
A well organised and executed event that has given us actionable outcomes to improve our business

Tim Proctor

Tech Digital
First time at this conference, it was excellent with a diverse and interesting panel of speakers- will definitely be back!

Andrea McDonnell

Prestige Underwriting Services
Brilliant event - Opportunities are never lost, just found by someone else

Mark Kelly

Kelly Brothers
You should be here next year. Sets you up to focus on leadership and direction for the next year. Have been attending for ten years, best event on the business calendar. Re-floats me every year!


Sylvia Brando

Ulster Business
Excellent morning

Darryl McShane

Greiner Packaging
Great food for thought for developing yourself and your leadership skills. We should lead from our authentic self to inspire others

Dr Roisin McCooey

Health and Social Care Board
An excellent event again from MLN, motivational and inspiring for me. Definitely will try to put some ideas into practice!

Glenda Nelson

LHH Penna
Great event for leaders that want to lead

Kevin Rogan

Donnelly Bros
Meet the SuMMit Partners
The support of these forward-thinking organisations makes this world-class event possible.